Are you Participants Amrit Brikshya Andolan ? suffer for amrit brikha andolan photo upload on apps or website ? then your in the right website, here we attract working amrit brikshya andolan app & website link here.
| | |
| --- | --- |
| Event | Amrit Brikha Andolan |
| Organization | Government of Assam (aba.assam.gov.in) |
| Scheme Name | Amrit Brikshya Andolan or Amrit Brikkha Andolan |
| Purpose | Tree Plantation |
| Financial Grant | Total Rs 300/- |
| Application Process | Online |
| Registration Method | Amrit Brikha App & ABA Website |
| Last Date of Photo Upload | Notify Later |
Amrit Brikshya Andolan
যদি আপুনি Certificate Download বা Photo Upload কৰিব বিচাৰে, তেন্তে প্ৰদান কৰা লিংক বা এপ ব্যৱহাৰ কৰি আপোনাৰ একাউণ্টত Login কৰিব লাগিব। এবাৰ Login কৰিলে, আপুনি প্ৰমাণপত্ৰ ডাউনলোড বা ফটো আপলোড কৰিব পাৰিব।
Table of Contents
Amrit Brikshya Andolan 2023 Details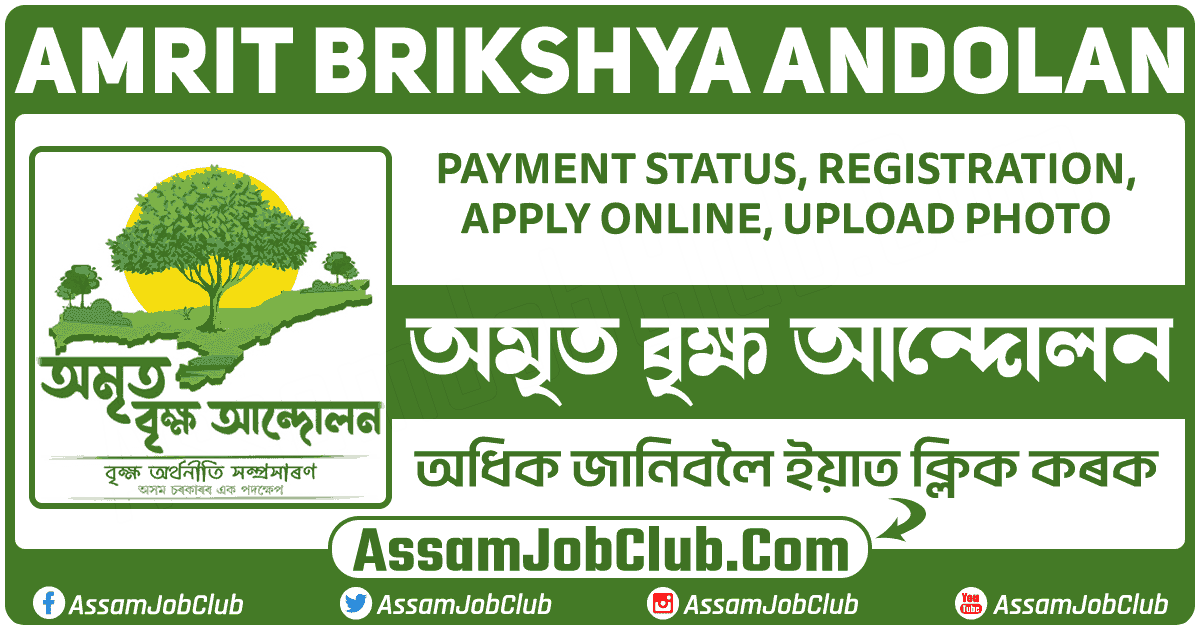 the Government of Assam has launched a new environmental initiative known as the Amrit Brikha Andolan in 2023. main aimed at fostering tree planting activities throughout the region.
As part of this program, the amrit brikha andolan govt of assam is making seedlings available in every district of Assam, which participants can obtain from designated collection centers. To participate in the initiative, individuals have the option to register through either a mobile application or a web portal.
An attractive incentive is in place for participants upon successfully planting a seedling and uploading an associated image to the designated amrit brikha andolan online portal & amrit brikha andolan app, a financial grant of 100 Rupees will be provided through Direct Beneficiary Transfer.
Furthermore, participants can look forward to an additional reward of Rs. 200 in the third year, contingent upon the survival of the planted tree.
Notably, the photographs submitted must include geotag metadata, signifying that they were captured using a GPS-enabled camera. This initiative seeks to encourage widespread tree planting efforts, fostering environmental sustainability and engagement among the citizens of Assam.
Related: Atmanirbhar Assam Scheme 2023
Check Amrit Brikshya Andolan Payment Status
Are you want to know the status of your Amrit Brikshya Andolan payment? You're not alone. Many individuals are waiting for updates on their payments from Amrit Brikshya Andolan initiative. In this section, we'll guide you on how to check your payment status quickly and easily.
To check the status of your Amrit Brikshya Andolan payment, follow these simple steps
Steps
Visit the Official Website: Go to the official Amrit Brikshya Andolan website. or in this article you can find the link in important link section
Login to Your Account: If you have an existing account, log in using your credentials. If not, you'll need to create an account by providing your essential details.
Navigate to Payment Status: Once you're logged in, navigate to the "Payment Status" or "Check Status" section. This is where you'll get the most up-to-date information regarding your payment.
Enter Required Information: You may be asked to enter specific details such as your application ID, date of birth, or other relevant information. Make sure to input this information accurately.
View Your Status: After providing the necessary details, you'll be able to view your payment status. This will include information about the amount, date of disbursement, and any additional notes related to your payment.
Check Payment Status
By following these steps and regularly checking your payment status on the official website, you can ensure that you receive the benefits you are entitled to from this program. Stay updated and secure your financial well-being with ease.
Amrit Brikshya Andolan Mobile App
The Amrit Brikshya Andolan App is now available for download on the Play Store, providing a convenient option for participants to upload photos without the need for a GPS camera.
However, due to heavy traffic and a minor bug, the app may occasionally crash on some mobile phones. Rest assured that developers are actively working to resolve these issues, and a fix will be implemented soon.
The Amrit Brikshya Andolan Registering and Amrit Brikha Andolan Photo Upload through the mobile app is considered a more user-friendly option when compared to using the aba.assam.gov.in website. To download the Amrit Brikshya Andolan Mobile App, please click on the link provided below:
Apps Link
Link will Updated Soon
"পুৰণি অমৃত বৃক্ষ এপ Uninstall কৰি ইয়াৰে লিঙ্কত গৈ Install কৰক"
Amrit Brikshya Andolan Website link
For those who prefer to access Amrit Brikshya Andolan information, resources and want to Amrit Brikha Andolan Photo Upload and download Amrit Brikshya Andolan Certificate through the official website, we provide the link below
Additional Links
Link 01
Updated Soon
Updated Soon
Updated Soon
Updated Soon
Updated Soon
Updated Soon
Amrit Brikshya Andolan website links
যদি আপুনি Certificate Download বা Photo Upload কৰিব বিচাৰে তেন্তে দিয়া লিংকৰ জৰিয়তে আপোনাৰ একাউণ্টত লগইন কৰক
Frequently asked questions
Who is eligible for incentive?
An individual beneficiary who is not getting salary from any government department is eligible for incentive
Will I get incentive for planting a tree?
Yes, you will get an incentive of Rs.100 for planting seedlings, provided you are not a government employee.
After how many years shall I be able to harvest the tree which I have planted?
The harvesting age will depend on the species that you have planted. please refer the table and check the time period for your species.
From where shall I get the seedlings?
You will get the seedling from the pre defined category wise collection points
Will I require permission from the forest department for felling the tree when it is matured?
You will not require any permission from the forest department to harvest this tree when it is mature.
How should I plant the seedling?
You should dig a clean pit of 30 cm x 30 cm x 30 cm and fill it with soil mixed with some organic manure. Thereafter you should plant the seedling and press the soil around the plant so that it is able to stand on
The Amrit Brikshya Andolan is your opportunity to contribute to the green revolution in Assam, reap financial benefits, and make a lasting impact on the environment. Register today at aba.assam.gov.in, join the Amrit Brikshya Andolan, and start planting trees for a greener, more sustainable future.