| | |
| --- | --- |
| Exam | Assam HSLC Examination 2023 |
| Result | Assam HSLC SEBA Result 2023 |
| Board | Board of Secondary Education, Assam |
| Result Status | Not Declared |
| Result Date | Results will be declared on 30th May 2023, at 10 AM |
SEBA Result 2023
Table of Contents
Assam HSLC SEBA Result 2023
Hey, Are You appeared Assam HSLC Examination 2023? and now want to check Assam HSLC SEBA Result 2023. Then this Webpage will be helpful for You, Coz here you can find/ Check SEBA Result 2023, Assam HSLC Marksheet & much more.
The Board of Secondary Education, Assam Successfully Conducted the HSLC/AHM Exam, 2023 between 15th March 2023 to 31st March 2023. The exam has been organized at the various district centres in the state. Now, the SEBA Assam is on its way to publishing the SEBA Result 2023.
The Candidates who appeared/ participated in the written exam of Assam HSLC Examination 2023 are able to check & download their Assam HSLC SEBA Result 2023 from this page. All details of the examination and procedure of result checking are discussed below.
Assam HSLC SEBA Result 2023 Details
The Board of Secondary Education, Assam is going to release the Assam HSLC SEBA Result 2023 for Assam HSLC Examination 2023 and The complete details, including exam form fill up, routine and result are provided below.
Name of Exam: Assam HSLC/AHM Examination, 2023
Name of Board: Board of Secondary Education, Assam
Name of Class: 10th Standard
Date of Exam: 3rd March to 1st April 2023
Type of Exam: Written Examination
Total Students: 4,22,174 Students
HSLC: Updated Later
AHM: Updated Later
No of Exam Centres: 912 Centres
Head Office: Bamunimaidam, Guwahati, Assam, 781021
Other Result: Assam HS Final Exam Results – Check AHSEC Result Online
HSLC Result 2023 Date
The Student who appeared in Class 12 final Written Examination are advised to keep checking this page for the latest information. We will update this section with the official information once the result declaration date is announced. As per our assumption, The Assam Hs Result will be released on 31st May 2023.
| Exam | Result Date |
| --- | --- |
| HSLC Result 2023 | 30th May 2023 |
AHSEC Result Date
Top Methods to Check Your Assam HSLC Result 2023
There are multiple methods to check Assam Class 10th Final Exam results, but here will only provide some official and most relevant methods of result checking. All methods are briefly described and also required links are attached to them.
Officially Authorized Websites: The Board of Secondary Education, Assam announce the result on their official website (sebaonline.org) and it also officially permits a few 3rd party websites to publish their results on the web.
Mobile Apps: Here is the other most popular and easiest way of Assam SEBA HSLC/AHM result checking way. You just need to install genuine apps from play store. Below we attached direct play store link of those two apps, install any one of them to get SEBA result update on your device.
Short Message Service (SMS): Now, we are going to talk about the classic way of online result checking. Yes, you heard correct, still SMS result checking is possible for Assam Class 10th Result. Just you need to send an SMS before a few hours ago of result announcement and the system will revert back to you with your result. The proper SMS code and number will be updated later after.
Result Gazette (Booklet): Here is the last method to check your result, in this method you need to visit your nearest school or exam center of SEBA where SEBA sent a Result Gazette also known as Booklet. In this gazette all student's result will be included. Stop, stop there will be only pass or fail details not the whole marksheet. For marks details, you need to check your original marksheet provided by the SEBA.
How to Check Assam HSLC Result 2023 Online
Presently, after all, I need to share with you the alternate way technique to check SEBA Result 2023 on this site. The principal thing is that you have to visit precisely this page upon the arrival of the result declaration and the rest you have to follow underneath given connections and your outcome will be flown before your eye.
Scroll down, and check the Important Link section.
Click on the SEBA HSLC Result 2023 link.
After that, a new page will load in your browser.
On that page, you will get two input boxes.
In those boxes, you need to enter your roll number exactly as mentioned on your admit card.
After that, you will need to click on Submit button.
Now, your result will be loaded on the screen of your device.
Also, you can take a printout of the same by clicking on the Print option.
Important Links for SEBA Result 2023
the Result link for Assam HSLC SEBA Result 2023 is also provided below, with help of this link Job applicant have to Download or Check their Result for Assam HSLC SEBA Examination 2023.
| Details | Link |
| --- | --- |
| Assam HSLC SEBA Result (Server 1) | Updated Soon |
| Assam HSLC SEBA Result (Server 2) | Updated Soon |
| Assam HSLC SEBA Result (Server 3) | Updated Soon |
| Assam HSLC SEBA Result Android App | Click Here |
| Visit official website | Click Here |
Important Links
HSLC Result Portal
Those who took the Assam HSLC Class 10th Final Exam, which is conducted by the SEBA in Assam, The Candidates can check their results on the official website after they are released. We have included a picture of what the website might look like. The Board of Secondary Education in Assam might also use this website to share the results of the HSLC Result 2023.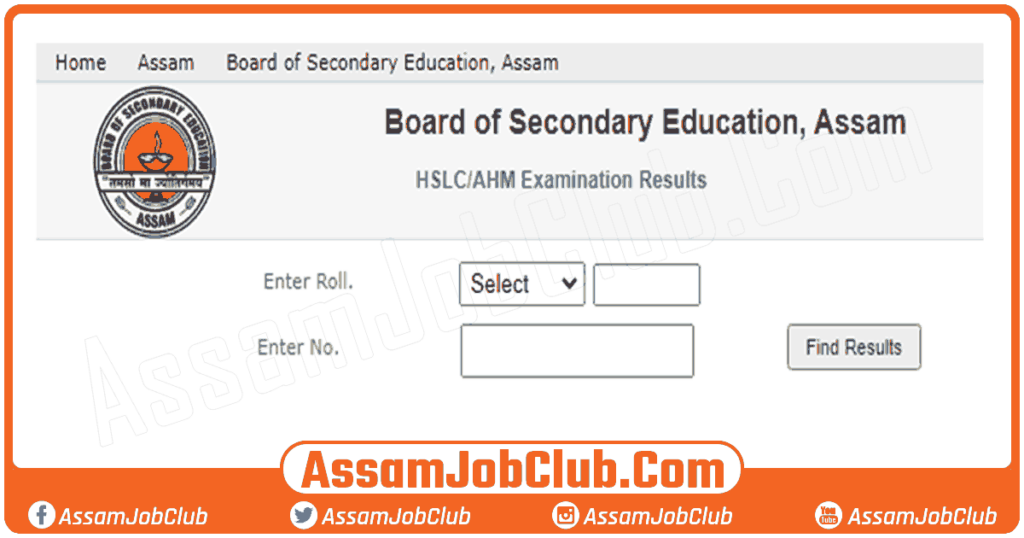 Assam SEBA Result Declaration Timeline
In this section, we have provided the previous SEBA Result declaration dates and time. This information might be helpful for this year's students.
| Exam Year | Date | Time |
| --- | --- | --- |
| 2023 | – | – |
| 2022 | 07th June 2022 | 10:00 AM |
| 2021 | 30th July 2021 | 11:00 AM |
| 2020 | 06th June 2020 | 09:00 AM |
| 2019 | 15th May 2019 | 09:00 AM |
| 2018 | 25th May 2018 | 09:00 AM |
| 2017 | 31st May 2017 | 10:00 AM |
| 2016 | 31st May 2016 | 11:00 AM |
| 2015 | 02nd June 2015 | 10:00 AM |
| 2014 | 28th May 2014 | 11:00 AM |
Declaration Timeline
FAQ of Assam HSLC SEBA Result 2023
Q1. When will SEBA Result 2023 be declared?
As per the official update, SEBA HSLC/AHM Result 2023 will be announced on 30th May 2023 at 10 AM.
Q3. What is the full form of SEBA?
The SEBA is stand for Board of Secondary Education, Assam. This is the state secondary education board of Assam. It was established in 1961.
Q4. When was the SEBA HSLC/AHM exam conducted?
SEBA HSLC/AHM Exam was conducted from 13th March to 1st April 2023